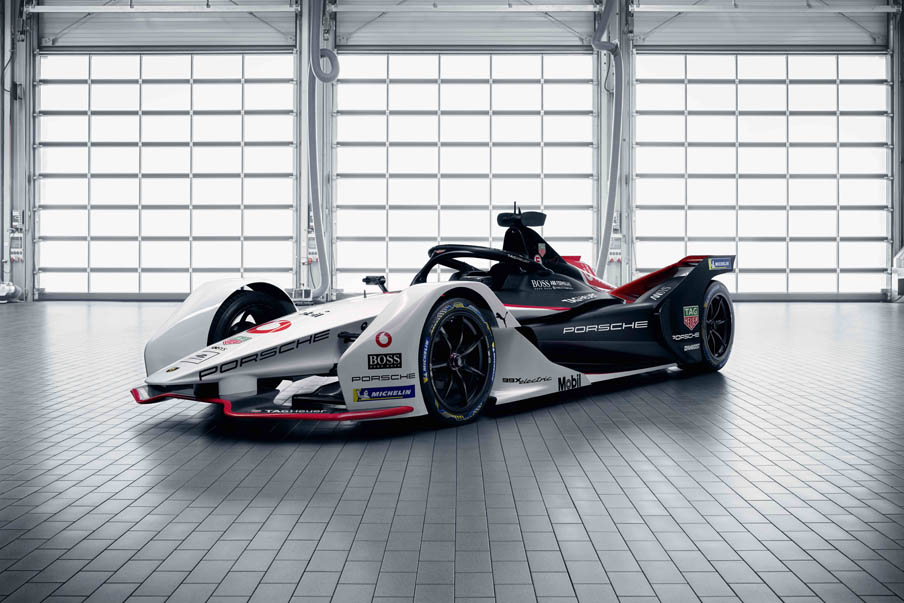 Ahead of TAG Heuer Porsche Formula Racing Team's debut season in the ABB FIA Formula Racing Championship, the German team pulls the covers off its Gen2 99X Electric. Here's all you need to know.
Read more
In a unique video game launch, the 99X Electric broke cover at the Porsche Digital GmbH premises in Ludwigsburg, after drivers Andre Lotterer and Neel Jani were guided through the premises by the gaming community, in a bid to find and reveal the car.
Wearing traditional Porsche motorsport colours, the car's livery contains the Porsche emblem, which is visible around the Halo protection system.
Typical of current and past Porsche cars, the naming format is three digits, with the highest number – nine – used twice to re-emphasise the importance of the Formula E project for Porsche. The 'X,' however, stands for a forward-looking approach and prototype racing, with the Porsche 99X Electric serving as a development platform for future fully-electric production models. The Formula E racer is revealed ahead of the all-electric Taycan's road debut later this year.

"Today sees the Porsche 99X Electric join the list of historic Porsche motorsport cars," says Pascal Zurlinden, Director Factory Motorsport.
"The naming and the design give the car its initial character and bring it to life. It is a special day for everyone who has put a lot of work into the Porsche Formula E project in recent months."
Sporting a 'Porsche E-Performance Powertrain', developed with Porsche's experience in hybrid endurance racing, the 99X Electric joins the rest of the grid with a standardised chassis and battery.
"In hindsight, we laid the foundations for Porsche's future involvement in Formula E during the LMP1 project," said Malte Huneke, Technical Project Leader Formula Racing.
"We used the insights gained during that time in the development of the Porsche Formula Racing powertrain. We focussed on building a highly effective powertrain with the highest level of efficiency."
Using the learnings from the racetrack, the same 800-volt technology used in its 99X also features in the series production of the first fully electric Porsche sports car, the Taycan.
The TAG Heuer Porsche Formula E Team and the 99X Electric will make its first official appearance in mid-October 2019 at the Formula E test at Valencia, Spain.

INTRODUCING THE PORSCHE DRIVERS