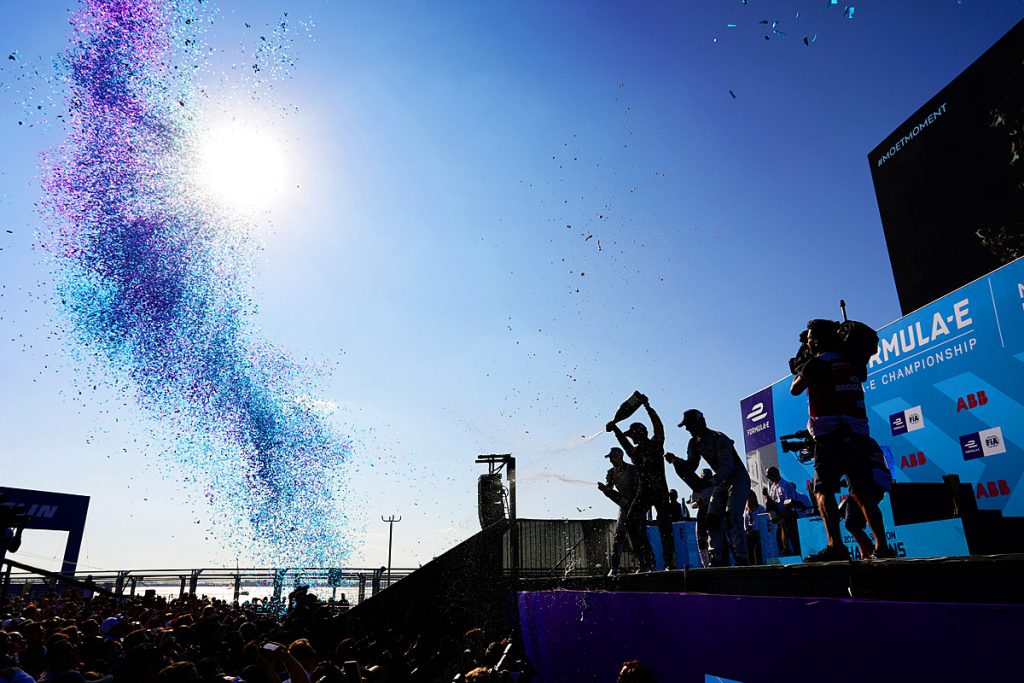 Robin Frijns wins 2018/19 season final in Brooklyn while Jean-Eric Vergne goes down in history as the series' first two-time Champion. DS Techeetah redeem teams' title in New York City after losing out to Audi Sport last season. Here's how it all went down.
Read more
Starting from 12th, DS Techeetah's Jean-Eric Vergne made it through the first few laps unscathed following his main opponent Lucas di Grassi (Audi Sport Abt Schaeffler) in 11th. With 40 minutes left on the clock, Geox Dragon's Jose Maria Lopez stopped on track after Turn 7 owing to damage sustained from a collision with DS Techeeath's Andre Lotterer. The BMW i8 Safety Car was deployed while Lopez's car was retrieved while Lotterer returned to the pits and retired from the race.
After the Safety Car returned to the pits, the racing restarted with all drivers going through the ATTACK MODE Activation Zone to engage ATTACK MODE – receiving an extra 25kW of power. With each activation lasting four minutes, the drivers are permitted to activate the power boost up to three times during the race. Starting the race on Pole, BMW i Andretti Motorsport's Alex Sims led the way followed by Envision Virgin Racing's Robin Frijns and Nissan e.dams' Sebastien Buemi. With 25 minutes remaining, title challengers di Grassi and Vergne had moved up ninth and tenth respectively. Both in the points, di Grassi would need nothing short of a win to secure the title here in New York while Vergne was looking for just eight points.
With 20 minutes left on the clock, Frijns challenged Sims for the lead, forcing the Brit wide on Turn 1 while relegating him to second. In a bid to better his position, di Grassi passed HWA Racelab's Stoffel Vandoorne on the inside of Turn 1 to take eighth before passing Nissan e.dams rookie Oliver Rowland to move up to seventh. Further down the pack, Vergne held strong in 10th until he passed Vandoorne to move into ninth.
By the last lap, Frijns held the lead from Sims and Buemi in third, while Vergne safely brought home the title win in seventh. Further down the order, while battling for second and third in the championship, di Grassi and Evans collided coming into Turn 11, taking both drivers out of the running with just meters to go.
Drained, Vergne lifted his hand and saluted the crowds as he crossed the line in a historic back-to-back title win.